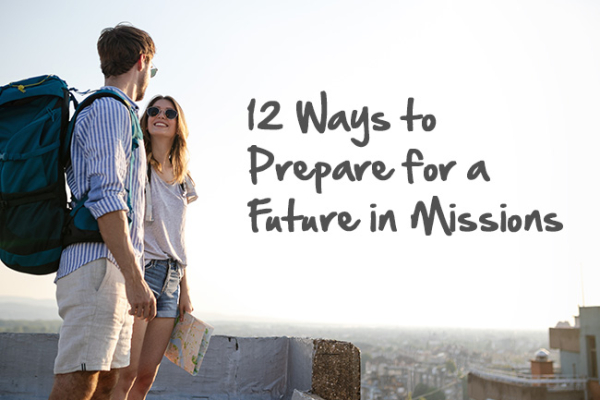 Jumpstart Your Missions Journey
Are you planning to become a missionary but you're in a waiting period? Maybe you still have a few years in school, or you need some time to pay down debt. Maybe you're starting a family and exploring options for the future.
Even if now isn't the right time to go, it's never too early to start preparing.
Here are 12 ways you can invest in your future missions career right now.
Pray.
This is the most important thing (now and ever) you can do. Spend time praying for the nations and for your own journey. Ask God to give you wisdom and direction in following Him.


Talk to your pastor.
Start the conversation now about your desire to serve overseas. Ask for prayer and suggestions on your next steps.


Be discipled and make disciples.
Ask someone in your church to mentor you in your faith. Also look for someone you can invest in. It's important to learn how to make disciples before you go. (Want some help? Sign up for free disciple-making and missions content.)


Start crossing cultures.
Visit ethnic restaurants in your city, attend cultural festivals, and get to know immigrants in your neighborhood. You could even watch an international church service online. The more time you spend observing and participating in another culture, the smoother your transition will be later.


Get to know a missionary.
Learn about life and ministry overseas from someone who's ahead of you on the journey. If you don't know any missionaries, ask your pastor or a missions recruiter to connect you.


Take a Perspectives course.
Learn about God's heart for the world throughout history, and see how you can be part of His mission.


Research mission organizations.
Each mission agency has a unique vision, values, and culture. Here are questions to ask to help you find the right fit.


Investigate ministry opportunities.
Do you already have a location and type of ministry in mind? Ask your pastor, mentor, or a missions recruiter to help you explore options that fit your skills and interests.


Do language study.
If you know where you want to serve, start your language study early with a language-learning app or tutor. You probably won't be fluent before you leave, but you'll have a head start.


Get TEFL/TESOL certified.
Most countries in the world are looking for native English speakers. Even if you don't plan to teach English full time, having the certification will give you another option for ministry. Bonus: You can get certified online!


Take Bible classes.
You don't have to have a Bible degree to serve with Crossworld, but you do need a solid understanding of Scripture so you can disciple others. Ask your pastor for a recommended course or program in your city or online.


Build your team.
Talk to friends and family about your interest in missions, and start sending email newsletters about your journey. You'll be building a network of potential partners, and you might even find a few people who want to join you in going overseas.


These ideas will give you a head start on your missions journey. When it's time to go, you'll be ready.




Frank Roe is Director of Recruitment for Crossworld Canada and has served in missions for more than 40 years. He loves to see others know God and follow Him.