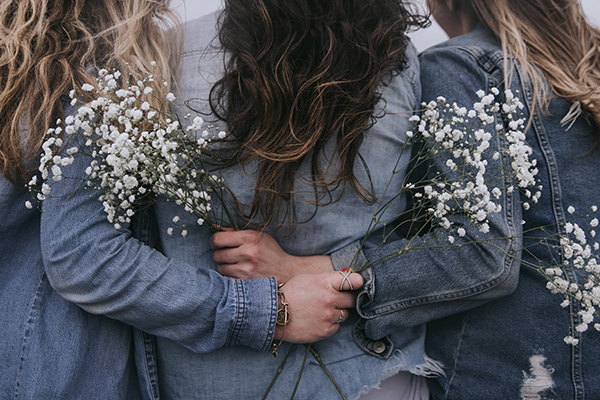 Loving Those Whom Missionaries Leave Behind
This article originally appeared here and is reprinted with permission.


Every year in late winter, our church dusts off its collection of international flags. It's World Missions Conference time. During the final session of our church's most recent conference, the congregation stood and sang "Lift High the Cross." The music was moving. The sermon was powerful. People teared up.
I left early.
It was all wonderful, except for one thing: the call to spread the gospel, which I champion from my core, has caused me pain. God has used this Great Commission to call my sister to the other side of the planet.
My sister, Steppie, and I are six years apart, and we shared a bedroom until I was grown. Many nights, before we would fall asleep, we would scratch backs and review the events of the day through childhood's whimsical lens. Those moments—and millions of others—forged a strong sisterhood.
Steppie is expecting her first child in two weeks time, and that sweet baby will be born in Italy, where God has called her and her husband to serve as full-time missionaries. The Great Commission has intersected with the coronavirus, and because of this, I won't be there to celebrate with them and rock that little child like a good aunt should.


Hard Commission
There's a calling that lives in the shadows of the Great Commission, issued to the extended families and close friends whom missionaries leave behind. Maybe we could name it the "Hard Commission." Brothers and sisters and mothers and fathers left behind typically want to be a life-giving support to our family members, but there's a quiet death to die in the background. Our loved ones made a choice for their own lives, but it affects all of us.
Even if you haven't sent family abroad, you may share a pew with those who struggle to keep their head up when the flags march down the aisle on World Missions Sunday. Regardless, consider four ways you can support the family members whom missionaries leave behind.

Ask

Engage those folks in your congregation who may be missing a missionary, and be truly curious about how things are going abroad. Don't be afraid to say, "I can't remember exactly what her job is, but I wanted check in on her." We families are just grateful that the sending church remembers they've sent our girl, and they care enough to find out about how she's doing.


Advise

You may have gained some helpful knowledge in your travel for work or fun, and those tips could be a blessing to family members missing their loved ones. They may be thinking, Can I ship food abroad? I'd love to send my brother-in-law his favorite snack—marshmallows—for his birthday. What about flights? I've heard about websites that send cheap flight updates, but how do I find the reputable ones? These things overwhelm people who suddenly become internationally connected for the first time. If travel is old hat for you, your help and advice are invaluable. Offer it up without waiting for them to ask.


Assist

Steppie sends me video messages as she walks through the olive groves outside Rome, and she always brings us fresh olive oil on her furloughs. Her husband, Reid, has mastered the art of pasta all'amatriciana. (They tell us the pizza here just doesn't compare to true Italian pizza.) It's always fun to hear about their new life, but it's impossible for me to fully experience without being there in person.

Many families of missionaries don't have the luxury of going to visit these far-off places, because they simply can't afford it.

If you have spare airline miles or a generous heart, offering to buy a plane ticket is a tangible way you can bless a missionary's family members.

Enable a mother or father to eat empanadas in Chile with their child, and you've given them a gift beyond any other, except one.


Appeal

Go to God on behalf of the missionary and his or her family members. Ask for requests. Or just start praying. Pray for blessing on the ministry abroad, specifically in the area of language. This seems to be a challenging area for everyone.

In addition, pray for protection over those home and abroad while they're apart. Pray also that God will continually renew the hearts of both the missionary and also her family so that they might view kingdom life like the merchant in Matthew 13, "who, on finding one pearl of great value, went and sold all that he had and bought it" (v. 46).

As you pray,

ask God to remind family members that their prayers come before a sympathetic Father who secured our salvation by giving up his only Son.




This article was originally published here and is reprinted with permission from The Gospel Coalition. Author
Candace Echols
and her husband, Jim, enjoy raising their five children in Memphis, Tenn. Her first children's book,
Josephine and the Quarantine,
recently hit the shelves. Read her blog at candaceechols.com
.