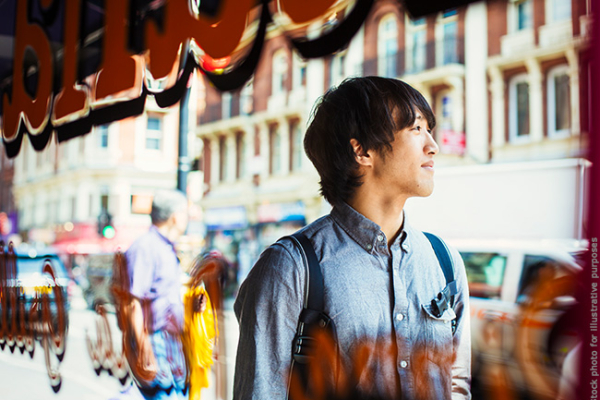 Losing Money and Finding Faith
JAPAN — Crossworld worker Jeremy and his friend Tomo finished the last bites of their sushi lunch and picked up their things. They paid as they exited the restaurant, then biked to a nearby park for language practice.

Tomo has been teaching Jeremy Japanese since Jeremy arrived two years ago. They meet to talk about vocabulary and sentence structure, but they often delve into topics like life and faith, too.

The two found a bench in the park and sat down to continue their lesson.

Then a strange look came over Tomo's face, and he started digging around in his pockets.

"What are you looking for, Tomo?" Jeremy asked.

"My change from the restaurant," he said. "I think I left it at the cash register!"

"It can't have been much," Jeremy said.

"No, but money has been tight lately and I can't afford to lose it. I'll go back to the restaurant after we finish our lesson, though I'm sure someone has already taken it."

Tomo settled back onto the bench, but Jeremy could tell he was distracted and stressed. He decided to give Tomo time to recover and waited for him to speak first.

But instead of going back to their language lesson, Tomo asked, "Jeremy, what would you do as a Christian in this situation?"

The two had talked of their beliefs before, but Tomo hadn't shown much interest in what it means to follow Jesus.



"I would pray and ask God to provide for me this month," Jeremy said. "I'd choose to trust that even if I don't find the money, God is good and will provide for my needs."



When Jeremy saw his friend considering this response, he added, "I would also pray for whoever found the money — that it would be a blessing to them."

Tomo sat in thought for a few minutes, then picked up the language lesson to continue where they had left off.

When it was time to go, Jeremy asked if he could pray for Tomo about the money.

"Lord, please provide for Tomo and help him to know that You care for him through this situation," Jeremy prayed out loud.

They said goodbye, and Jeremy watched Tomo head back toward the restaurant. I wasn't praying in much faith that Tomo will find his money, Jeremy thought. I believe, Lord; help my unbelief.

About 10 minutes later, Jeremy's phone dinged with a text from Tomo: "I got it! Can't believe it! Thanks for the prayer, Jeremy!"


Jeremy smiled, thanking God for the lesson about prayer and faith He taught both of them that day.
Here's how you can pray for this ministry.
Tomo went to church with Jeremy on Easter and heard the good news of Jesus' death and resurrection. Pray for him to move toward faith in Jesus.




Pray for Jeremy and his family as they continue to study language and culture, and for Jeremy's kids to adjust to the local school system.




Pray for expat and Japanese believers to be committed and equipped to make disciples in their workplaces, homes, and communities

.
The people in this story are real, but italicized names have been changed to protect privacy.