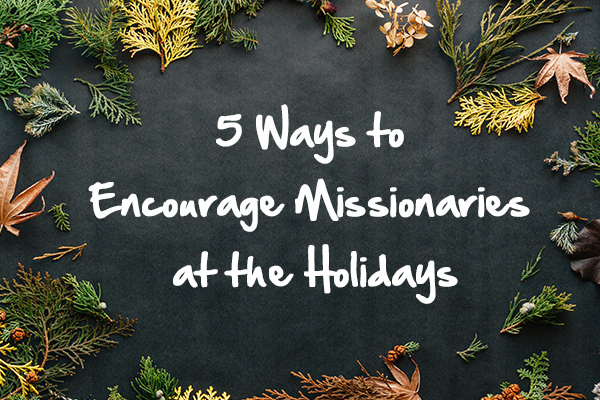 5 Ways to Encourage Your Missionary at the Holidays
Ah, the holidays. Pumpkin spice lattes, gingerbread cookies, and quality time with your family and friends. But for those far from home, like most missionaries? The holidays can be lonely — especially for those who are new to the field. It can be the time they're longing for home the most.
As you're making holiday plans this year, don't forget to include overseas workers. These simple ideas remind them that although they're out of sight, they're not out of mind.
Here are five ways to bless your missionaries during the holiday season.


1. Invite them to celebrate with you.
"Kind friends invited our college daughter to their homes, took her shopping, included her in their family celebrations, and made her feel cared for. It relieved our minds to know she had a place to go." — Crossworld workers Paul and Brenda
Workers who happen to be in the U.S. for Home Assignment may not have anywhere to spend the holiday — especially if family isn't nearby. Invite them to join your family for Thanksgiving dinner or a Christmas Eve party. Ask them about holiday traditions in their host country, or invite them to bring a traditional food to share. If the workers are spending the holidays overseas but their college-age kids are in the U.S., invite the kids. They'll be happy for a break from dorm food, and it will mean the world to their parents.


2. Call them by phone or video.
"I love getting a Skype call on Christmas morning." — Crossworld worker Sally
If you won't see your missionaries in person over the holidays, set aside a few minutes to give them a call. Not every country celebrates the same holidays or celebrates them in the same way workers were used to back home. That can be lonely. But a phone call from you can douse the threat of homesickness in just a few minutes.


3. Send greeting cards.
"Receiving personal cards reminds me that people are thinking of me back home and that I'm important to them." — Crossworld worker Jessie
You probably already send holiday cards to your friends and family in the U.S. This year, add your overseas friends to your mailing list. They may not receive much mail from home, so getting that hand-written card will make their day. If your church supports a Crossworld worker, collect cards from individuals in the church and send them together in a package so that your missionary can open one each day of the holiday season.


4. Ship a care package.
"I love receiving things that remind me of the season." — Crossworld worker Bron
Collect some of their favorite items and things that are difficult to get overseas: Thanksgiving decorations, Christmas ornaments, advent calendars, new books, non-perishable food, and more. But ask before you send! Their local mail system may be a hassle, and some workers must pay to receive packages from customs. Ask your worker whether they can receive packages or if something else is better.


5. Give a personal financial gift.
"Personal gifts are a blessing because then I don't feel guilty about doing something special around the holidays." — Crossworld worker Sally
Many workers live on a tight budget. An extra gift around the holidays can go a long way in providing a fun family outing, a special dinner, or a few days away to be refreshed. Just remember that personal gifts (not for the ministry) are not tax-deductible and can't be processed through Crossworld. Ask your workers how to give to them directly.