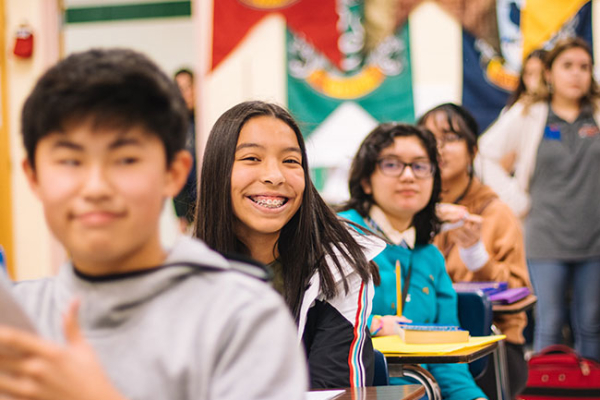 10 Ways to Live Out Your Faith as a Teacher
Full disclosure: I'm not a teacher. But I mentor teachers who are on a journey to the nations — people who hope to use their skills to improve their students' lives and make a difference for Christ. I've watched them live out their faith in secular school settings around the world.
I interviewed a number of these teachers about their mindset each day, how they stay focused on their mission, and advice they'd give to teachers who want to do the same thing.
Here's a sampling of their collective wisdom.


Ideas for how to live and love like Jesus as a teacher
Pray!
Okay, this one's obvious, but it can still be hard to remember. Pray for God to move in the lives of students, teachers, office staff, janitorial staff, kitchen staff, bus drivers, and parents. Pray specifically for those the Lord puts in your path regularly. (Maybe there's a reason for that!) Pray about things going on in their lives, and pray for opportunities to share the gospel with them.


Submit to your principal, school board, and others in leadership.
Not only does the Bible command you to do so (Romans 13:1), but it also shows you respect authority, which is a big deal in many cultures.


Stay out of the gossip.
People are watching you — especially if you live cross-culturally. Engaging in school politics can damage your reputation quickly.


Spend time with teachers.
Don't eat at your desk every day. Eat in the cafeteria or take breaks in the teacher's lounge. Find out where other teachers gather, and gather with them.


Love and serve those who are hurting.
If you're spending time with other teachers, you'll learn who's hurting. Listen well. Ask good questions. Invite someone over for dinner at your house. Bring a care package to one who's sick. Offer to take an extra lunch duty or after-school detention to give someone else a break.


Bring grace into your classroom.
School is often merit-based, so students get used to values of achieving and earning. When you introduce grace — especially when it's unearned — your students will experience a new value, one that speaks of God's grace.


Create a space of honor in your classroom and value everyone.
Teach your students how everyone — including the custodian — brings value to our lives and deserves respect. Make sure the words used in your classroom build others up instead of tear them down.


Turn holidays into cultural studies.
Talk about Thanksgiving, Christmas, Valentine's Day, both from a cultural level and a spiritual perspective.


Ask for help.
It doesn't come naturally to us, but it demonstrates humility and often takes a relationship to a deeper level.


Get to know the families of your students.
You may have restrictions on what you can share in class, so ask God for opportunities to engage your students and their families outside the classroom where you can be more open about your faith.
These are just a few ideas to start your thinking. Get creative about what works in your country and at your school. Lunch time hot chocolate club? Taco Tuesday after school? A names-of-honor wall? Handwritten cards for each person's birthday? Whatever fits you and your community, do it with love for the glory of God.
Want more ideas? Here are two recommended reads:
Joel Jenney served with Crossworld in the Canary Islands before becoming a missions recruiter in the U.S. He loves to help people find their place on the mission field. Talk to Joel about joining Crossworld as a missionary teacher.