Would you like to share the message of disciple-makers from all professions with your friends? Here's how our bulk pricing works.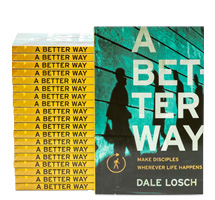 Softcover book (160 pages):
1-19 copies | Order at Amazon.com
20-49 copies | $6.50 each, plus shipping (35% discount)
50+ copies | $5.50 each, plus shipping (45% discount)
*All sales are final.
Ready to order? Call us at 816.479.7300, and have your credit card number ready.