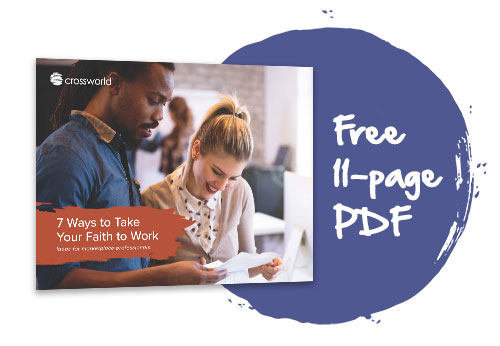 7 ways to take your faith to work
Looking to bridge the gap between your faith and work? Our free guide offers seven practical principles that can transform the way you approach your work life.

Start implementing these principles today and experience a renewed sense of purpose in your daily routine. Submit the form below to get your free guide now.
Download your free PDF now.
We're committed to your privacy and you may unsubscribe at any time. See our privacy policy for details.
Your work matters to God.
If you saw your work through God's eyes, what would you see?

You'd see that he values your Mondays on the clock just as much as your Sundays in church. He doesn't categorize jobs as sacred or secular — he created all work and called it good, and every profession (including yours!) has value in his kingdom.
artists
mechanics
dentists
business owners
teachers
chefs
and everything in between


Why integrate your faith at work?
God has given you specific skills and placed you in a specific workplace for a purpose. Your job is about far more than a paycheck! Your job is the primary context for living out your faith.

Many Christians struggle to integrate their faith and their work. It can sound intimidating or awkward. But it doesn't have to be.
7 ways to take your faith to work
This free PDF offers seven practical principles to help you live on mission every day. You'll learn how to:
view your work as worship
nurture God-given creativity
infuse challenging situations with grace
share your faith in a natural, authentic way
enjoy the rest God offers
Make Monday the best day of your week.
Don't believe the lie that your work is meaningless. Stop dreading Mondays and start to thrive the way God designed.
Experience God's presence in both the exciting and the mundane.
Introduce kingdom values that transform your work culture.
Watch God work in the lives of people around you.
Rest in the satisfaction of a job well done.
God invites you into his mission right where you work every day. Will you join him? Connecting your faith into your life at work will have you saying, "Thank God it's Monday."
Download your free PDF now.
We're committed to your privacy and you may unsubscribe at any time. See our privacy policy for details.

[This is] a great approach to being a Christian in the workplace.
— participant at Crossworld's theology of work event