1. How can setting up an online account help me?
Setting up an online account makes it simple for you to make future gifts with just one click! With an online account, you can update your contact information, add or delete payment methods, and change the schedule and amount for your recurring gifts. Having an account is a convenient, user-friendly way to managing your giving. Watch the 60-second video at right to see how easy it is.


2. How do I set up an online account?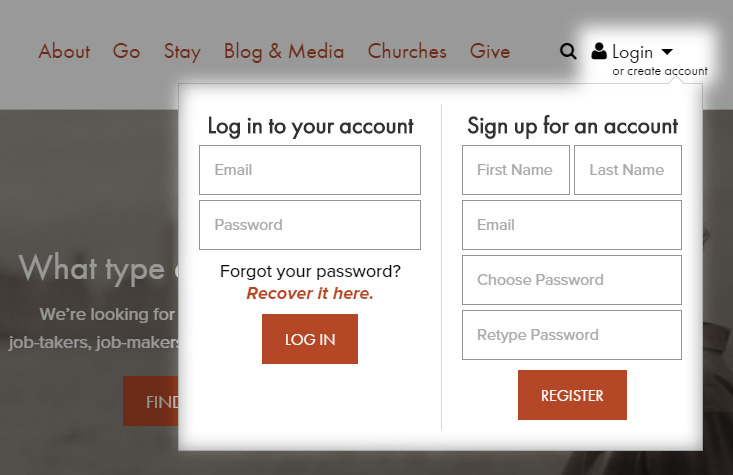 Click the Login icon on the upper right of any web page. Then a window will appear that allows you to either log in to an existing account, or to sign up for a new one. (See image at right.) You'll enter your name and email address, and then create a password. After you do that, you'll receive an email from us asking you to confirm your email address by clicking on a link. That's the last step to gain access to your new Crossworld account. From there, you can log in to manage your giving and contact information securely at any time. Questions? We're here to help! Reach out to us at [email protected], or by phone at 816.479.7300.


3. How do I update my account's contact information?
To update your contact information, log in. Under My Account, select Edit Profile. (See image at right.) You'll be able to update your phone number, mailing address and also your account password from there.


4. How can I update the payment method for my online account?
To update your payment method, log in to your account. Under My Giving, scroll down to the Payment Methods section. There, you'll be able to add, delete or update the payment methods you prefer for your online giving. (See image at right.)


5. What's the benefit of switching to EFT giving?
Did you know that each credit card transaction costs a 3% fee? Some Crossworld workers lose up to $1,000 a year in credit card fees — money that could be used to reach the unreached! By switching to EFT giving, your donations are still safe and convenient, but there is no fee. You also won't have to worry about your donation stopping if your card expires or is compromised. Follow the steps in #4 above to change your payment method to EFT, or call us at 816.479.7300.


6. Why don't all my gifts show up when I view my online giving history?
Any gifts you've mailed in, such as checks and stock transfers, won't be listed in your online giving history. The good news is that we can easily give you your total giving history ― online and mailed ― on request.


7. Is my online giving secure?
Keeping your information safe is very important to us. Your credit card or bank account details are encrypted so that you or others can't view the whole number by logging into your online account.


8. I've forgotten my password. How can I get it back?
To protect your account, we don't store your password. Instead, you can reset it by clicking the Login icon on any web page. A window will appear, and on the left side is a link to click that will help you.